Textiles
Students are required to assimilate information from the lectures and to express the concepts visually on boards. Special emphasis is made on visual composition, craftsmanship and clarity of the information presented.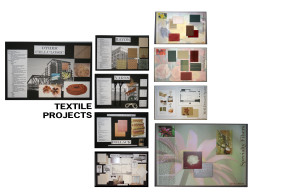 Students complete several in-class exercises that build skill in the creation of textile palettes, through the use of color, texture and pattern (shape). The instructor assigns each student a culture or geographic area and establishes whether the selections should be based on color, texture, style, etc. With the instructor giving critique, the students create a palette that reflects the assigned cultural. While guiding the composition and organization of the textile boards, the instructor critiques on the effective use of design elements and principles such as hierarchy, line, scale, proportion, balance, etc. Students complete a set of boards for which they develop a concept, organize the elements and practice specific approaches for execution.
The students then progress from the design of a window covering to choosing all materials, textiles and surfacing for a room.
History of Architecture and Furniture
An experiential project designed to facilitate the acquisition of historical information, while applying relevant design principles and elements. Reflecting the use of two dimensional decoration techniques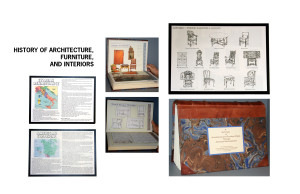 emphasized in the period styles covered, the History of Architecture and Furniture 1 term project reflects the application of appropriate 2-dimensional design principles as they relate to composition, visual impact, proportion and hierarchy of information, as well as, presents 2-dimensional design principles as they were used in the respective period styles.   Furniture sketches from Baroque to Neo-classicism are also included.
Students through informal sketches, word associations and other concept generators investigate different design concepts, with a focus on visual organization. After the process work is critiqued by the instructor, the student implements the concept for the final project. Each chapter of the final project must reflect the design concept in organization, coloration and aesthetics.
The final project becomes a portfolio piece that is used by the students for professional interviews, scholarship applications and competitions.