Residential Studio
A physician and computer professional, this young couple is also involved in politics, collect old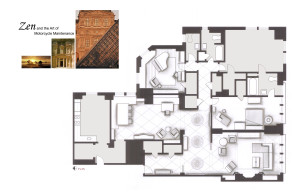 books, and appreciate music. They desire an interior that will reflect their casual, but refined, lifestyle. When they are not entertaining, they enjoy watching old movies or shopping for antiques. They require neatness and order in their lives.  The clients have asked for a contemporary interior that incorporates antique pieces into their five main living areas, giving the apartment a style that carries throughout the space.
A unique fusion of East and West, technology and beauty, intuition and reason will define this interior. Clean lines, soothing colors, juxtaposed with classic details and unique pieces lend a sense of gracious activity within a relaxing environment.
Colorado Residence 1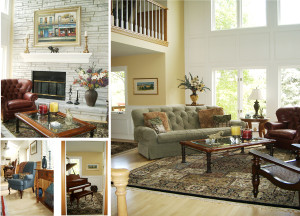 As corporate executives, this couple is well-traveled and consummate entertainers. Their home if often filled with guests, whether an intimate party of six or a large gathering of fifty or more. To best share their passion for fine wine and food with family and friends, the dining table reflects the core values of the clients –sharing, nurturing, and celebration. Their aesthetic is traditional, reminiscent of stately European estate homes. Whereas they both desire a home that is orderly and functional, they do not want it to feel overly decorated or designed. Elegant comfort that invites participation defines this client's perfect place.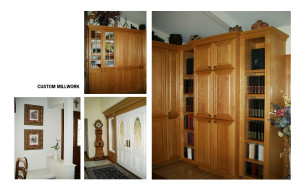 Even though this home is large, most of the spaces needed revision to accommodate the lifestyle of the clients. Requirements included new surfaces and furniture to refresh the look; custom architectural detailing and millwork to enrich the elegance; and an area large enough to seat twenty guests for dining.
Colorado Residence 2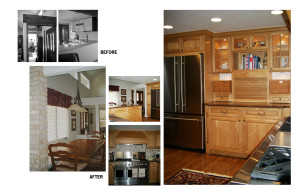 In multiple phases, the clients wanted to remodel every aspect of their living environment. Changes in surfaces, architectural detailing and furniture layout were required to transform the dated "mountain" home into a more traditional space, with a uniquely blended character of a "Main Line" carriage home and light-filled openness. Grounded in tradition, they also desired their home to reflect a sense of timelessness – flexible enough to effectively serve them as their family grew and their needs changed.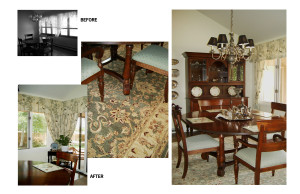 A new sense of threshold is needed at the front entry to allow for a more gracious transition from exterior to interior.   After the relocation of an awkward front hall closet, the entry is redefined through custom architectural detailing that is designed to create a sense of division as well as invitation. The first phase began in the kitchen. Centrally located just off the front entry, it is not only the figurative, but literal "heart" of the home. However, lacking function and capacity, the kitchen was dated, dark and difficult to use. Respecting the client's wish to maintain the same footprint with minimal plumbing and electrical changes, the redesign significantly increased storage capacity and functionality, including a professional range, several work centers, and increased seating in the breakfast nook.