Residential Design Studio Project: Reflecting the desires communicated in the assigned client profile, students were asked to design a living space that would meet program requirements and existing condition restraints while providing aesthetic and thoughtful design solutions. The process began with strong concept development which was to find expression in the furnished space. While not a space planning exercise per se, limited changes to the existing conditions were permitted. The focus on architectural detailing, furniture, materials and textiles was not curtailed by the imposition of an arbitrary budget, but instead the students were encouraged to explore all manner of design choices.
ASID 2008 Student Residential Design Submissions:  Project 1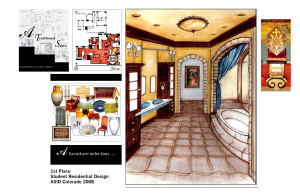 A Traditional Space  The clients require a design bringing simplicity to a complex living situation that welcomes multiple generations of family and friends. This home welcomes all, whether resident or guest, by providing an immediate sense of place. The strength of this 2700 sq ft. design is the ease and comfort provided by an environment allowing for flexible use. The home embodies simplicity, while maintaining a gracious experience focused on the essence of family. The space is grounded with elements of Italian and Brazilian cultures drawn from the owner's personal heritage, and interpreted by rich colors offset by distinctive architectural detail and furniture.
ASID 2008 Student Residential Design Submissions:  Project 2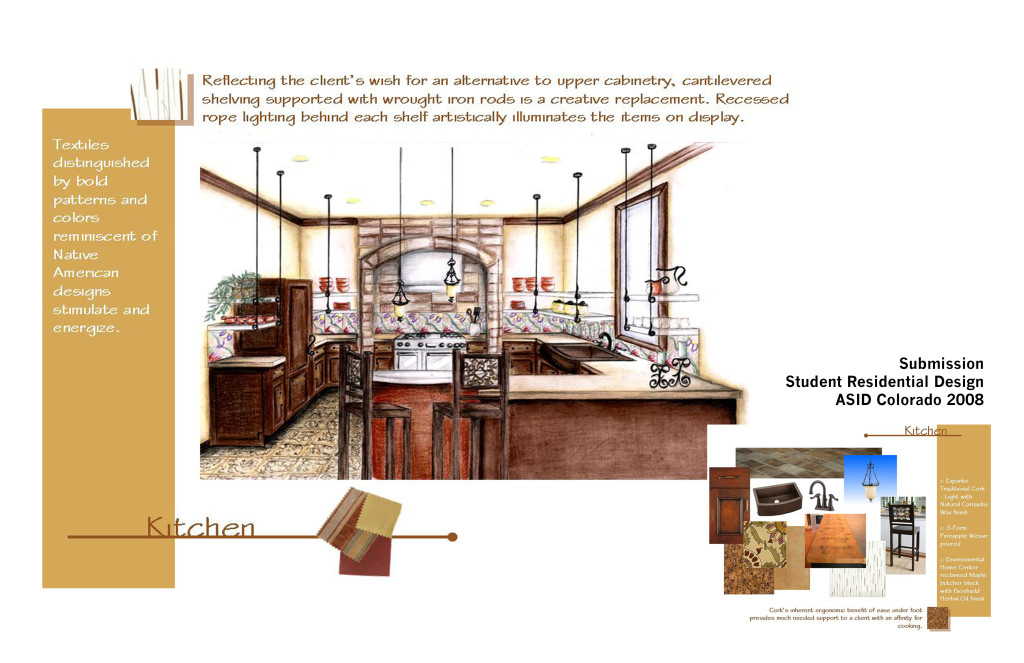 Re-thought. Rejuvenated.  Revived.  The concept of home goes much deeper than a building, an address, or in this case a 2,700 square foot space. Home is not synonymous with house. It is a refuge where feelings of connectedness, energy and warmth form the perfect balance between humans and nature, order and chaos, past and present.
Revived Santa Fe style provides the medium for an abundance of warm, soothing colors; rich textiles; and a visible sense of heritage.  A seamless incorporation of sustainable design completes the holistic approach to this traditional aesthetic.
IIDA Pret-A-Porter:   This event challenges thirty-seven teams from Colorado's leading interior design firms, architectural offices, and design schools to take the architectural finish materials they use everyday in the built environment and rethink them for the human body.    Design firm teams are randomly paired with product manufacturers and are tasked with creating a couture ensemble. The designers will unveil their garments, which range in style from bawdy to ballroom and mod to manga, on the 28 foot, lighted, glass runway.
2008 Prêt-a-Porter Design Competition Submission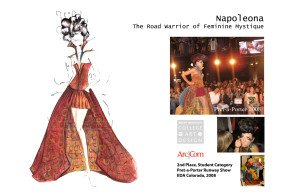 Napoleana: The Road Warrior of Feminine Mystique.  Contrasts proliferate throughout this design as an innovative version of military style reminiscent of eras past, of great empires won.  The strong geometry of the ArCom textiles endows the strength and power of the soldier as the graceful silhouette communicates exquisite femininity. While gold remains the regal mainstay, traditional blue and red have been recharged by teal and garnet. The unexpected use of space and void creates a dramatic profile that embraces the 21st century by responsibly incorporating eco-sensitive materials. Graceful and elegant, strategic and fierce, this couture gown commands attention as it dominates the fashion runway.